Solutions For Builders & Developers
As a home-builder or developer, you are no doubt offering structured wiring packages that provide wiring for video, phone and data. Today, more than 50% of new home owners will install dish service within their first year, even in areas where cable is available.
Since the inception of small dish services, satellite TV services average nearly 6,000 new subscribers daily. The rapid growth of dish services for internet, music and video will only ensure the continued increase in dish usage.
Before the CommDeck product line, developers had no way to manage dish installations within a community. Dishes were mounted on siding, porches and roof tops with holes and unsightly wire hanging from new buildings with no uniformity. This unsightly scattering of dishes degraded property and led to expensive repair charges when changing occupancy. Roofing contractors would void labor warranties because of possible leaks and damage to roofing materials leading to management groups implementing installation restrictions.
The use of the CommDeck dish mounting system by builders and developers is the solution that can prevent these types of problems from arising in your community, while creating an excellent upgrade opportunity, rather than an added cost to each job.
Eliminate using lag bolts to penetrate roofing and siding material, will not void roof warranty
Provides a sensible solution to complete home networking packages
Offers a built-in solution for condos and developments, allowing a uniform mount and a predetermined location for dish placement
Offers homeowners an alternative when developing in rural areas that are not serviceable by cable
Adds value and function to each home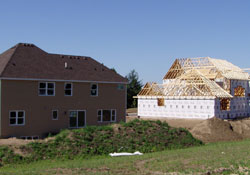 I own rental property and develop land for condos and communities. In most cases, I have covenants in place which are designed to make it on the edge of impossible for satellite dishes to be installed in these developments. the reasons for these covenants are the result of property damage and reckless installations, which have left some of my properties with satellite dishes or the mounts still attached to the building. This has been particularly true as tenants move in and out. The disregard for my property had to end. There were no reasonable alternatives that make the satellite dish look appealing or protect my property. Further I had to make it a habit to schedule time to meet with the installer, grant permission, and hope the job would be done right.
I have now been using Commdecks on my new buildings to resolve this matter. We have successfully had our latest buildings wired using this device. The Commdeck has given me reason to allow satellite dishes back into our properties. It is a sensible system that not only gives my customers a choice but delivers a clean, uniform appearance and a weather tight enclosure.
As a builder, developer and rental property owner, I highly recommend the Commdeck for wiring buildings for satellite dishes.
John Scheppke